UPDATED 10/6/19 @ 12:57AM
All guests have been safety evacuated from the Disney Skyliner System.
As of 11:25 pm the Skyliner is slowly moving again disembarking passengers that have been stuck for nearly 3 hours. We're glad to report that as of now, no injuries have been reported!
Disney Skyliner has been involved in an incident, if you're currently aboard just hang tight as the crews are working to disembark passengers as quickly as possible. The collision happened at the Riviera Resort station.
Witnesses say one of the gondolas slid down and crashed into all the others.
Just less than one week after the opening the Skyliner to the public and months and months of testing, we are hearing a sensor went bad. However in a phone call to Disney, the cast said the gondolas should be moving again soon and that as far as she knows, there was no crash.
Reedy Creek Fire Department is wasting no time suiting up and preparing for an evacuation.
In the event something happens and you are stuck on the Skyliner for a long period of time, there is a emergency supply case under the seat and from the photos we've seen, it contains water packets, glow stick, notepad and waste disposal bags.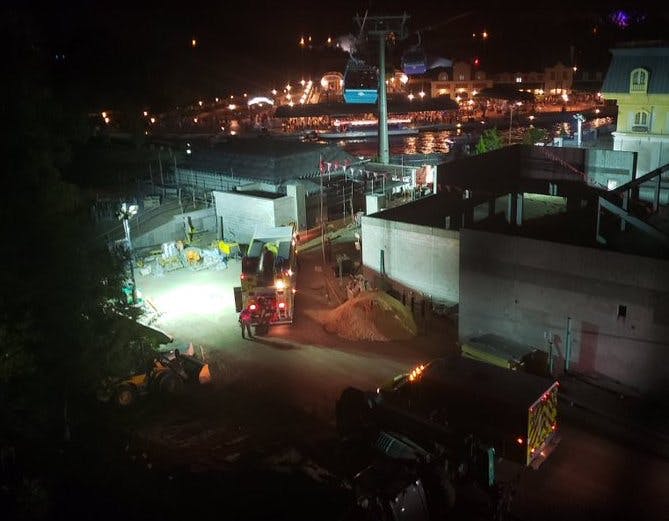 The gondolas are actively being evacuated. Many guests have been stuck for over an hour.
In the even an evacuation from gondolas happens over the water, this barge is used.
This story is developing
We will post the moment we have more information.
---
Be sure to keep in touch by connecting with us on social media and subscribing on YouTube and to our e-mail list so you get notified right away the next time we post.
---
How to support us:
If you like our videos, please like and subscribe. Also, please consider supporting us on Patreon if you appreciate our content and want early access, to get exclusive content, discounts from our partners and more!
---
What we use:
Night Vision Camera – https://amzn.to/2PpUaWd
Gimbal – https://amzn.to/2M00kzH
Microphone – https://amzn.to/2KEPNo1
Our cool Disney inspired gear – PassholderMagic.com
Check out our other blogs:
The Adventures of Apple and Rob
We'll see you real soon!